Marketing to Moms: 4 Tactics
Choose a case study below to see how BSM Media connects companies with moms:
Driving Awareness Among Mom and Millennial Consumers
Amplifying Social Message
Retail Sharing
Brand Ambassadors
Virtual Event Product Marketing
Video Series
Event Creation
Holiday Media Tour
Social Spotters
Mom Video Product Reviews
Mom Advocacy Program
MommyParties
Holiday Toy Launch
Back to School Campaign
Family Fun Festival
Retail Grand Opening
Driving Awareness Among Mom and Millennial Consumers
BSM Media engaged with social media influencers to post about an HP Laptop QVC deal on their most popular social media channels. Influencers shared product photos or videos along with product information and links to QVC.com with their target audiences, which included millennials, moms, techies, and home/lifestyle enthusiasts. BSM also secured placement of featured products in over 35 gift guides and multiple national radio shows. Lastly, BSM Media leveraged existing relationships with HP enthusiasts to drive excitement and amplify social media shares.
Results
– 6,600 social media shares
– 50% conversion rate
– 95 million impressions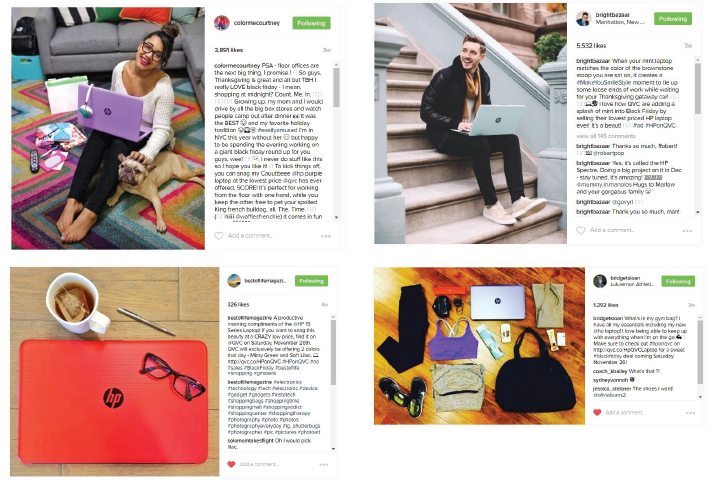 Amplifying Social Message with Millenial Trend Setters
BSM Media supported an agency campaign around driving Black Friday and Cyber Monday sales on Overstock.com. Our approach was to engage Millennial fashionistas and frugalistas to share images, descriptions, and links of products on sale with influencer content creation, a social media link sharing contest, and an #OverstockDeals Twitter Party held on Cyber Monday.
Results
– 40+ blog posts
– 2,600+ social media shares
– 2,500+ Overstock.com product clicks
– 20.2+ million total potential campaign impressions

Retail Sharing with Collegiate Millennials, DIY Influencers and Photo Enthusiasts
HP tasked BSM Media with creating awareness for a week-long BOGO 50% off sale for HP Ink at Staples, Best Buy, and Office Depot. BSM Media engaged digital influencers and their families to share the sale information on their social media channels the week of the sale.
Results
– 900 shares on Instagram and Twitter by only 65 influencers
– 12.2+ million total campaign impressions
– 37% of Social Spotters reported purchasing HP Ink while at retail locations
– 85% of Influencers still engaged with HP

Brand Ambassadors
BSM Media partnered with Chick-fil-A to corral brand fans to amplify social sharing and provide brand insights. To do so, we formalized a brand ambassador community of mom influencers and engage them with on-going communication.
Results
– 1,000+ influencers engaging directly with the brand
– 650,000-800,000 impressions per quarter
– 24/7 access to live consumer feedback
– 72% engagement rate
– Reduction in research budget and turnaround time
– Live webinars and in-store meet-ups

Virtual Event Product Marketing with Mom Influencers
BSM Media supported a Chick-fil-A in promoting a new product included in Kid's Meals. Our approach included inviting Mom Influencers to an exclusive webinar and live chat with the product creator on BSM Media's digital platform, MomTV, with host, Maria Bailey. Mom Influencers actively participated in the live broadcast and shared the video replay with friends and followers for additional reach.
Results
– Over 200 live viewers
– Over 1 million social impressions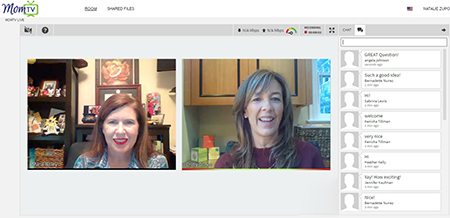 Video Series
BSM Media partnered with Zales to create content to publicize their Mother's Day contest. BSM Media identified top mom influencers to submit video content to create engaging and shareable montages. Utilizing the extensive MomSelect network, BSM Media distributed the branded content across social media, generating hundreds of thousands impressions.
Results
– Over 600,000 video views
– Over 30,000 contest entries
– Over 500,000 impressions from re-posts and shares
Event Creation
The team at Disney Parks wanted to directly connect with moms in select markets across the country, as well as extend the reach of their coveted Disney Social Media Moms Conference. BSM Media created a traveling series of engaging events in key markets across the country known as Disney Social Media Moms "On-the-Road". What began as local events have organically evolved, due to social media buzz and word of mouth, to draw a larger, regional audience.
Results
– Three events sold out within days, with 20% of attendees traveling more than 200 miles.
– More than 180 million impressions from 100 blog posts, 22,000 tweets, 150 Facebook posts and 60 Pinterest boards
– Event hashtag trended above major international events in 2014, such as the World Cup
– 300+ attendees shared over 2,000 photos on their social networks
Event Creation
BSM Media partnered with Beaches Resorts to create Beaches Resorts Social Media on the Sand, an invitation-only, social media conference. Attendees sharpen their social media skills during this immersive and completely unique event through inspiring and empowering sessions, while connecting in the Caribbean and creating unforgettable memories amid an incredibly beautiful island setting. The 2014 Beaches Resorts Social Media on the Sand conference hosted over 125 bloggers and their families at Beaches Turks & Caicos Resort Villages & Spa. Experience the fun of the 2014 conference in this video and learn more about the conference here. Customized sponsorships are available for the 2015 event to connect brands with top digital influencers while helping to create long-lasting and mutually beneficial relationships.
Results
– The #BeachesMoms hashtag trended throughout the 2014 event weekend and reached over 5.7 million Twitter users, which equals 2 million more people than the combined populations of every country where Beaches or Sandals currently has a resort.
– Overall, the 2014 event produced over 170 million online impressions. 83% of attendees at the 2014 event said they were extremely likely to recommend the products from each sponsor to friends or family.
Holiday Media Tour
With coverage at a premium during the critical holiday sales rush, BSM Media organized a media tour on behalf of several toy clients, including The Amazing Zhus, LeapFrog and Bluebee Pals. Leveraging relationships with influencers and media outlets in key markets, BSM Media secured 10+ TV segments. Hosted by local influencers and media personalities, the segments aired on regional/local news and morning shows and were distributed via social media.
Results
– 10+ TV segments featuring 3+ BSM Media clients
– Viewership of 4 million+ across all segments
Social Spotters
BSM Media teamed up with Clover Stornetta, Inc., a California-based family-owned company that produces the highest quality and best tasting organic and natural dairy products on the market, to promote its latest line of Greek Yogurt. Clover has been around for over 100 years and is the leading dairy product supplier in California. Our campaign participants were excited to partner with such a renowned company. Social Spotters visited grocery stores in the San Francisco Bay Area, where Clover's Greek Yogurt is sold, and shared photos of the products across multiple social media channels. All results exceed predetermined goals for the campaign.
Results
– 80+ Instagram shares
– 200+ Twitter shares
– 3.6+ million campaign impressions
– 100% of participants would purchase Clover Greek Yogurt again
– 82% of participants reported purchasing additional Clover products after participating in the program
Mom Video Product Reviews
BSM Media was approached by a popular technology brand, HP, with the objective of driving sales of one of their printers at a national big box retailer. BSM Media recruited 50 power moms to receive the printers and to create videos and blog posts talking about the printer and its benefits. The response to the campaign was overwhelmingly positive.
Results
– 13.9 million campaign impressions
– Over 8,000 video views
– Select mom video reviews were featured on the big box retailer's website, gaining moms international exposure
– Revenue uplift during campaign period vs previous 5 week non-promoted baseline
– Sales increased by 39% in stores and 195% online
– Website traffic and sales conversion directly attributable to BSM Media's campaign
– Page views; unique visits; page, media, and action clicks increased during campaign period
BSM Media and MomTV has also partnered with Amazon as the exclusive mom video review provider. Through our Amazon partnership, we produce quality videos for you with our highly influential mom bloggers and share them on Amazon.com. Videos with your products will be featured on:
– Your product's Amazon page
– Amazon's video shorts channel
– A dedicated channel on MomTV.com
– The social media channels of our influencers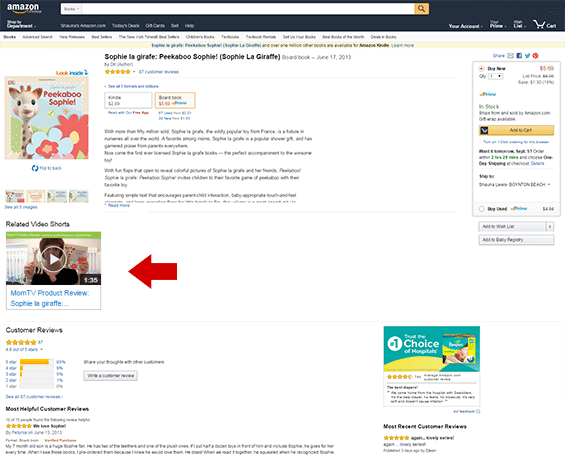 Mom Advocacy Program
For brands looking to create long-term, interactive relationships with consumers, BSM Media has vast experience in creating advocacy programs that encourage and reward 'Word of Mom' activity among influencers to drive sales and expand brand loyalty. When Children's Claritin, a popular children's allergy medicine brand, wanted to provide support to moms of allergy sufferers, BSM Media created an interactive platform via a private Facebook group where these moms could share suggestions, stories and tips related to managing their children's allergies. Members are provided with a tool kit from the brand, which includes product samples and branded items to share with their offline friends and peers. Group members are also invited to participate in online and offline events, that align with key allergy seasons. In the first quarter of the program, results included:
Results
– More than 100+ postings per month in the private Facebook group
– 650,000+ online impressions from Facebook and blog posts
– 70% say they talk to other parents about allergies at least once a week since joining the brand's Mom Crew
– 72% say they are more loyal to the brand, from having been a part of the Mom Crew
– 85% have purchased the brand's product since being a part of the Crew
The group expanded to 500 members in 2012 and is projected to reach more than 4,250 moms through direct word of mouth communication.
MommyParties
LeapFrog, a leading brand for educational toys, partnered with BSM Media to develop unique in-home experiences for parents and their children, MommyParties. The highly anticipated "Learn, Create and Share" parties introduced attendees to the a new learning tablet and reading system. In addition to these sought-after toys, the party kits contained customized recipes, games, and activity sheets to bring the learning tools to life. Buzz from the parties helped make the toys two of the "IT" toys for the holiday season and parents were able to showcase the brand's mission right from their own living room by showing their kids that learning is fun!
Results
– 250 Mommyparties hosted, introducing the products to more than 1,300 parents and 1,800 children
– There were more than 170 blog posts, reaching more than 725,000 readers
– 74 hosts uploaded branded videos to the brand's contest that was included in the parties
– 77% of hosts intend to purchase the brand's products in the future; 58% have purchased the brand's merchandise since their party
Holiday Toy Launch
Cepia, a top toy brand, partnered with BSM Media to introduce its latest product line, The Amazing Zhus Magician Pets, exclusively available at a big box retailer, in time for the holiday season. BSM Media created an integrated plan to drive in-store and e-commerce traffic, as well as create a call-to-action for pre-orders. The campaign included leveraging influential tweens to promote the product over social media, seeding product in classrooms and through local events, surprise and delight marketing, and integration into regional TV segments. Demand for the toys was so high that it was selling out of stores prior to Halloween and buzz continued throughout the holiday season, earning the product line a spot on many Hot Holiday Toy lists.
Results
– Over 19.5 million online impressions
– Recruitment of 50 tween Ambassadors who shared product and branded giveaways with friends and posted photos and videos over Instagram, YouTube, Facebook and Twitter
– 9 regional media segments featuring the toy line, hosted by mom influencers and reaching more than 4 million viewers
– 75+ blog posts reaching more than 800,000 readers
– 25+ video reviews, generating more than 300,000 views
– 500+ mentions on social media channels such as Instagram, Pinterest, Facebook and Twitter
– More than 8,000 tweets with the brand's hashtag, reaching more than 3 million consumers
Back to School Campaign
BSM Media developed the Back to School Success Campaign as a way to demonstrate to mothers how back to school supplies can contribute to year round school success. The focal point of the campaign was The Office Depot Communication Station; an easy to do project that is constructed with Office Depot merchandise.
BSM Media identified Office Depot products that can be used by mothers to create a solution to an everyday challenging: organizing her family's schedule. They created "How To" materials which were featured online and on in-store displays hung above a completed Communication Station. The initiative was supported with an online Guerilla Mom Marketing Network campaign which integrated school success content with product and linked to Office Depot's School.com. Additionally, a public relations campaign utilizing Maria Bailey drew media attention in over 20 major markets.
Results
– Sales of Communication Station products increased by 3% year over year
– Media attention generated over 10 million print and electronic impressions
– Campaign generated over 5 million online impressions.
Family Fun Festival
BSM Media developed and produced the Chris Evert Children's Hospital Family Fun Festival, a one-day festival with games, activities and rides to showcase the hospital's services, a multi-million dollar renovation project while breaking ground for a new Ronald McDonald house to parents in South Florida.
The Team at BSM Media created themed areas to spotlight the various departments of the Children's Hospital such as The X-ray bone dig, where young children could dig in sand to find life-size bones and learn about their own bodies and Orthopedic casting call where healthy children could apply a real cast to their finger. In addition, they orchestrated a ground breaking ceremony with city officials, VIPs and the public to kick-off construction of the newest Ronald McDonald House. Every detail from tent rentals to street closings to food vendors were handled by the team at BSM Media.
Results
– The event attracted over 15,000 families to the hospital grounds
– More than 5,000 families toured the Children's Hospital
– Brand awareness increased by 18%
– Created a database of over 12,000 families for future marketing
– Generated over 2 million media impressions for groundbreaking event in local newspapers and television
Retail Grand Opening
Hanna Andersson, a national retailer, wanted to create a buzz in the mom market about the opening of their first store in Texas. BSM Media found a local Veteran's Day parade in which to involve the brand. The retailer's float showcased two local military moms as Hometown Heros. The moms and their families were dressed in the retailers clothing. Additionally, BSM Media enlisted the participation of a local dance school. Children dressed in the retailer's clothing escorted the float and passed out Grand Opening coupons to moms along the parade route.
Results
– The Grand Opening day surpassed any store traffic on the first day for the retailer.
– Ultimately the retailer has been able to continue their partnership with not only the dance school but also local mom centric organizations in the community. They continue to use these relationships for on-going local marketing.