3 Easy Ways to Update Your 2017 Marketing to Moms Tactics to Meet your 2018 Goals
Mothers spend in excess of $3.1 trillion in the US economy each year according to research by BSM Media and Department of Agriculture data. It's likely that this spending power will exceed $3.5 trillion in 2018. How will you capture a part of Mom's wallet this year?
You could continue doing what you did in 2017, however you will likely achieve only what you achieved in 2017. If you want to up your marketing game, maximize your return on investment and increase your engagement with mom influencers, your marketing tactics must evolve with the times and technology. To help you identify new ways to gain new customers, sales and profits, I've assembled a short list of marketing tactics you might consider executing to capture your share of this trillion dollar consumer group. These are tactics based on trends, consumer behaviors and tested campaigns.
Interact with Moms via Live Streams and Virtual Events
Moms love to gather together to commiserate about homework overload, Instapot recipes, business tools and new technology. It may include coffee, wine or water. More and more, it's happening online. Social media platforms such as Facebook Live and Instagram Stories now allow moms to gather and exchange ideas no matter where they are during the day. Cindy Simmons, Surviving Mommy, attracts over 2,000 moms each Wednesday for her Coffee Convo, streamed live from her Facebook page. Moms chat, win prizes and laugh while Cindy entertains with family stories, product demonstrations and food for thought that only a mother can appreciate. As a marketer, it would be so 2017 to engage with Cindy only through her blog. For a more effective 2018 strategy, Cindy would produce content not only for her blog but also for her Coffee Convo. In another example, Chick-fil-A has effectively used online virtual events to engage with Moms while promoting their Kid's Meal products. Last Fall, they introduced their Q Wunder toy to moms by hosting a live event where moms could interact with Sofia Dickens, the founder of EQtainment. The one-hour virtual event produced more than 2 million online impressions.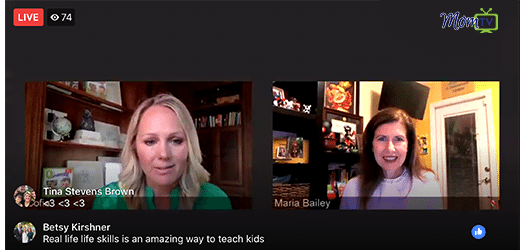 Put Social Spotters in the Aisle and Your Product on Instagram
You're asking, "What's a Social Spotter?" It's a mom influencer with at least 500 followers on Instagram, many of whom are also bloggers, YouTubers and Facebookers. They like to discover new products, and more importantly, they enjoy sharing via Instagram and other social media platforms. BSM Media has formalized a network of Social Spotters who find your products in retail locations and post photos to their Instagram accounts. It's an easy and effective way to get your product featured on Instagram while allowing moms to see it on the shelves in Target, Walmart, Walgreens and local boutiques. A typical Social Spotters program engaging 100 Social Spotters produces more than 1 million impressions.

Engage Her Mini-Me
The next big marketing target will soon be Gen Z! Yes, the children of today's mothers. Many Mom bloggers are expanding their offering to include leveraging the social media outlets of their Gen Z children. Recently, BSM Media partnered with the social media Gen Z influencers of Danielle Smith (PrettyOrdinary.com), Colleen Padilla (ClassyMommy.com) and Natasha Durst (SuperCouponLady.com). These young influencers produce great review videos and bring a whole new audience to your brand. Combining the efforts of Social Media Mom Influencers and their Gen Z offspring can increase your ROI and drive higher sales for 2018.

The mom market will continue to present a lucrative consumer base for brands. With the right strategy and marketing tactics, companies can realize increased profits for 2018. BSM Media stands ready to help. Contact us for insights, proposals or just to chat about the potential of the mom market. Email MeganBailey@bsmmedia.com or Maria@bsmmedia.com.
Happy New Year!