Who We Are
BSM Media is a full-service, integrated marketing and media company specializing in connecting moms and their families with brands and their products or services.
No, you first. When it comes to our clients, we listen first. Nobody knows your business better than you and with this in mind, we actively listen- then ask and strategize. We want to learn what your goals are before we start overlaying our expertise to your brand or product. Then we work backwards. Yes, that's right, backwards. We build marketing programs based on what we know will work and then maximize our resources to fit your budget. How do we know our plan will work?  Because we've been focused solely on moms and their families for almost 2 decades.
A lot goes into our customized marketing programs- expertise in the mom market, the latest consumer trends and fresh market research. Once we gather all of this, we challenge ourselves to exceed anything we've ever done before by creating an innovative and customized marketing plan that over-delivers on your goals.
Let's face it. Size matters and our size contributes to your success. It assures a personalized experience, allows us to be nimble and eliminates the waste of multilayered management fees.
We listen.
We are creative.
We have fun.
We think about what's best for the client.
We build the program based off consumer behaviors and what we know will work.
We build turn-key programs.
We love to challenge ourselves to do something new.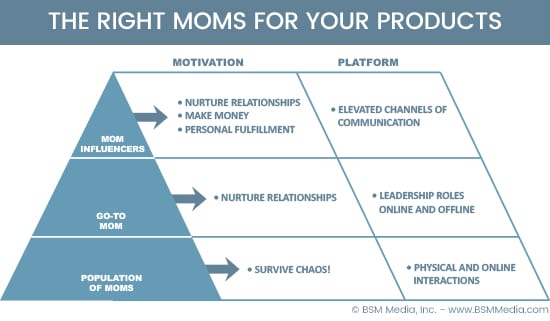 The industry likes to talk about disruption. We don't. We stand behind a classic approach to marketing, one of insertion. We believe disruption is associated with your product or service but when it comes to marketing, insertion is key. We insert brands into consumer behaviors that we know already exist. Everyone knows it's harder to change a behavior so, instead, we leverage existing behaviors to create a natural, authentic and organic connection.
We don't change behaviors. We identify existing consumer behaviors and trends that make sense to align brands with. Every move is selective and strategic; you won't have to worry about wasting your time or budget on knee-jerk reactions or on shifting ideas to follow trends. We'll get you there without the run around.
If you are ready to produce tangible results,
it's time to connect with BSM Media.