Marketing to Expectant Moms During a Pandemic
Four weeks ago when most America when into lockdown, marketers worried about the future of their marketing to mom campaigns. What they soon discovered however was that homebound moms searching for products, educational tools and entertainment created opportunities for sales growth.   Most importantly the new normal presented the chance to deepen their relationship with mothers, their principal consumers. Brands such as The Dole Food Company and Entenmann's offered household managers education content for the family, recipes for increased demand for in home dining and coloring pages for bored children. In the midst of media stories focused on the changing role of moms who are now homeschooling while conducting Zoom conference calls with clients from the closet, another segment of moms should not be ignored- the mom-to-be.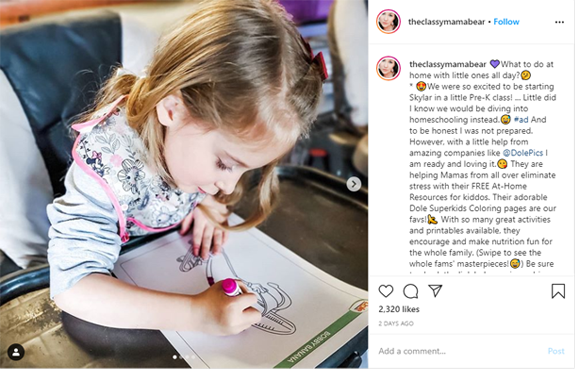 Consider the life stage of an expectant mother.  Everything is new from the shape of her growing body to the reactions of others. There are celebrations that start with a gender reveal and culminate with baby shower. Her days are filled with doctor appoints, product education, baby registries and of course, the dreaded pat on her belly by a complete stranger in the grocery store. With the arrival of the virus in our community, her new and uncertain world has been amplified with more uncertainty. Brands who establish a relationship with these women as they enter motherhood are likely to win their long term loyalty. Providing comfort, solutions, answers and community are the key and one brand is doing just that for the next generation of mothers.
Motherhood Maternity® launched, "The Juggle is Real (#mhjuggle)," a social based movement to reach expecting women and new moms navigating the pregnancy journey during this extraordinary time. The company's Facebook and Instagram platforms are offering videos, stories, pictures and in-depth conversations around all topics of motherhood from virtual doctor's appointments to grocery shopping, altering birth plans, giving birth during COVID-19, postpartum isolation and working from home with young children.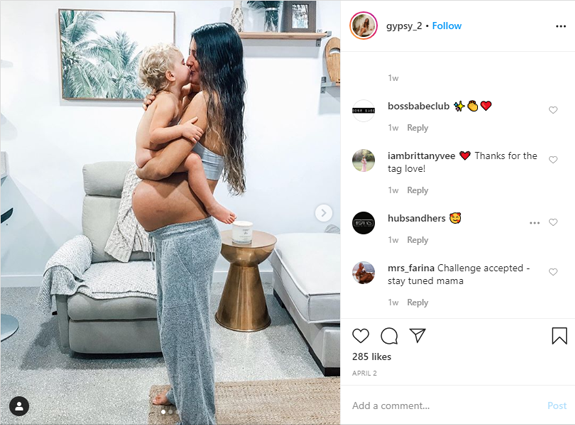 Moms have embraced the initiative with enthusiasm by posting their everyday reality on social media and connecting with other expectant mothers who can relate to the juggle. In just three days, the campaign earned 3.49% engagement on Instagram exceeding industry standard of .71%.  Proving when you partner with moms in a sincere and relevant manner, the relationship will fuel your marketing ROI.   To add an element of fun and allow expectant moms to show off their baby bumps, Motherhood Maternity added a sweepstake for prizes. Hundreds of baby bumps now adorn Instagram feeds creating a message of hope for many.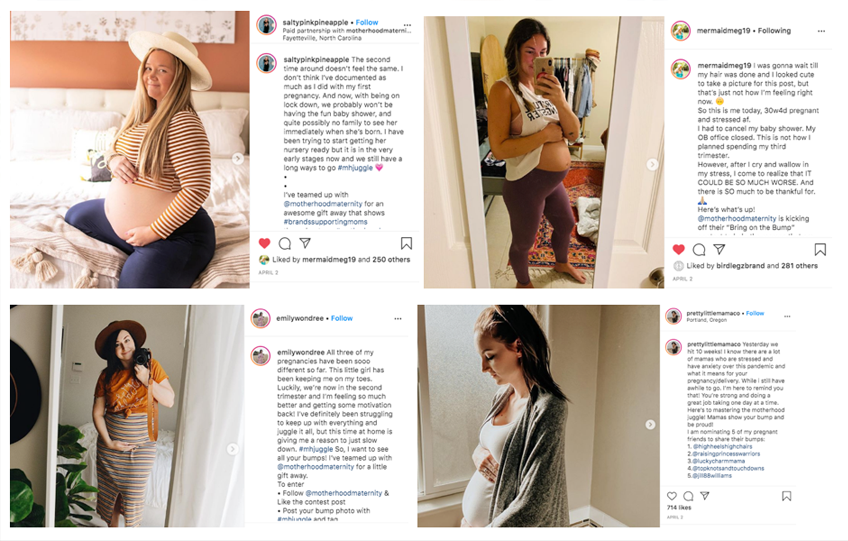 Remember among these days so uncertain, one thing is certain: Now is a great time to be creative in the way you become relevant to moms.   The relationship you establish today with mothers will lay the foundation for tomorrow's brand growth.
To learn more about visit www.motherhood.com/Juggle-is-Real and follow us at #mhjuggle.
To learn more about how your brand can marketing to moms during the pandemic, visit www.bsmmedia.com
---
BSM Media, Inc. is an award-winning and internationally recognized Marketing to Moms agency specializing in influencer engagement and outreach programs. Their MommyParties, and Social Spotters, services are proven activation tactics used by Fortune 100 to Start Up companies. BSM Media also owns and operates MillennialInfluencers.com and GenZInfluencers.com which connects brands to Millennial Influencers and Gen Z Influencers.  
Maria Bailey is the CEO of BSM Media and the author of "Marketing to Moms: Getting Your Share of the Trillion Dollar Market," "Power Moms," "Millennial Moms: 202 Facts Marketers Need to Know to Build Brands and Drive Sales," and the soon to be released "Marketing to Gen Z Moms."  She is a frequent keynote speaker and media expert. She can be reached at Maria@bsmmedia.com. Learn more about Maria Bailey at www.MariaBailey.com.