Back To School Shopping Is Taking on a New Look in 2020
Survey reveals Moms are avoiding retail shopping and filling backpacks with PPE.
The effects of Covid are changing the 2020 Back to School season not only for educational institutions but for how moms are shopping for their children's supplies for the new school year.  In a recent survey by BSM Media, a marketing agency which specializes in marketing to moms, 56% of moms say they will be spending less than they did in 2019 with 5% indicating that they will eliminate back to school shopping all together.  Those moms who are opening their wallets for shopping are doing so online or taking advantage of curbside pick-up.  Over 84% of moms have used curbside pickup for the first time since March with 66% saying they will continue using it after the virus is no longer a threat.
According to the survey of 500 moms conducted during the last week of July, 45% of moms will have children attending online classes and only 21% returning to the classroom.  Twenty percent of mothers polled will be homeschooling during 2020.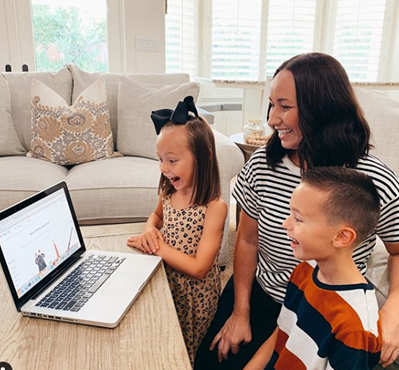 BSM Media has been conducting Back to School Mom shopping research since 2005.  "The greatest difference in 2020 is not only what moms are buying but how they are purchasing the school supplies they are buying," explains Maria Bailey, CEO of BSM Media and Author of "Marketing to Millennial Moms." (Wyatt-McKenzie)
The average mom according to BSM Media's research will spend $100 per child. Some of that spending will be dedicated to face masks.  Eighty-five percent of mothers say their child owns 2 or more masks.
While 77% of mothers are buying pencils, pens and notebooks, personal protection equipment tops their shopping lists. Moms report buying more masks, cleaning items and hand sanitizer than backpacks, totes or textbooks. Eighty six percent will send their children to the classroom with hand sanitizer, 53% with sanitizing wipes and 21% with a small bottle of cleaner.
Over 55% said they will not be buying the lunchboxes and backpacks that topped their 2019 lists.  Another 45% have eliminated athletic equipment, dance gear and other extracurricular items from their back to school purchases this year. Over 51% don't know if their kids will participate in extracurricular activities. Seventy-nine percent of moms learn about back to school products on Facebook followed by Instagram.  Email marketing captures the attention of 53% of mom shoppers with 12% admitting that Tik Tok influences their buying behaviors.
How moms are shopping this back to school season has changed as much as what they are buying. Seventy-seven percent will be doing their back to school shopping on Amazon.com followed by Target and Walmart predominately online with curbside pick-up for brick and mortar retailers.
For those moms who are shopping in-store, 84% of them want the retailer to have visible signs that they are sanitizing and controlling crowds. Lines are there biggest fear particularly if they reluctantly take their children with them into the store.  All of these consideration are greater considerations for moms than the return policy of the store for the first time since 2002 when BSM Media first conducted their annual Back to School research.
---
BSM Media, Inc. is an award-winning and internationally recognized Marketing to Moms agency specializing in influencer engagement and outreach programs. Their MommyParties, and Social Spotters, services are proven activation tactics used by Fortune 100 to Start Up companies. BSM Media also owns and operates multiple influencer communities including MomSelect.com,  MillennialInfluencers.com and GenZInfluencers.com with over 30,000 influencers representing all levels of incluence, ethnicity, race, and social engagement.
Maria Bailey is the CEO of BSM Media and the author of "Marketing to Moms: Getting Your Share of the Trillion Dollar Market," "Power Moms," "Millennial Moms: 202 Facts Marketers Need to Know to Build Brands and Drive Sales," and the soon to be released "Marketing to Gen Z Moms."  She is a frequent keynote speaker and media expert. She can be reached at Maria@bsmmedia.com. Learn more about Maria Bailey at www.MariaBailey.com.